Dr. Miller's NSF- and NIH-funded program of research investigates visuomotor integration–the use of visual information to plan, execute, and modify movement. She studies visuomotor integration in Autism Spectrum Disorder (ASD) and other pediatric movement disorders (e.g., Developmental Coordination Disorder). She collaborates with an interdisciplinary, multi-PI team in the Human Movement Performance Laboratory at UNTHSC, which houses state-of-the-art motion capture (Motion Analysis, Inc.) and virtual reality systems (CAREN, Motek Forcelink) with integrated mobile eye-tracking (ETG 2.0, SensoMotoric Instruments).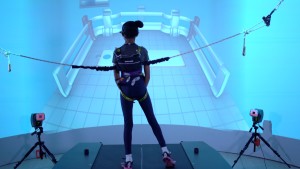 Dr. Miller is currently recruiting graduate students for Fall 2016. For more information, please contact Dr. Miller directly at haylie.miller@unthsc.edu.
For information about participating in research, please contact Gabriela Sherrod at gabriela.sherrod@unthsc.edu or 817-735-2312.